2019 SCGA Membership Only $49!
Check Out Our Member Benefits:
USGA/GHIN Handicap Index

Connect with Local Golfers

Up to 70% Off Tee Times

Access to Private Courses

Social and Competitive Play

A $15 gift card to Roger Dunn/The Golf Mart

Annual subscription to FORE Magazine

200 Free points ($50 value) for Forelinx

$20 Off Players Card at JC Resorts

$10 Off GolfShot Plus

$20 Cash Card to UnderPar

$75 Cash Card to golfTEC

2 Week Free Trial to The Players Club

Plus All SCGA Member Benefits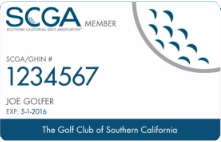 Take advantage of the lowest price available for your official SCGA Membership. Get your annual membership for only $49 and start your official SCGA and SOCAL Golfer membership today!

Please note: Partner benefits will be mailed — along with your SCGA Membership Card — to the address you provide at signup. New SCGA members should allow 3-4 weeks for delivery. Renewing members will receive their benefits with the January mailing of FORE Magazine.