The sand and surf are synonymous with Southern California.  It was only a matter of time before the highly buzzed about GolfBoard reached every corner of our region and spread a new vision of the golf revolution.   Check your nerves at the door because the GolfBoard is incredibly easy to operate and fun is a complete understatement.
OUR EXPERIENCE
We headed up the road to Shadowridge Golf Club in Vista, CA and met up with one of the GolfBoard team members for our first outing.  Before you go, know that you'll have to sign some liability waivers which includes a short instruction video.  Here's the deal… California is a notoriously litigious state so this is just part of the deal.  Once you go through that process once you're set for future outings.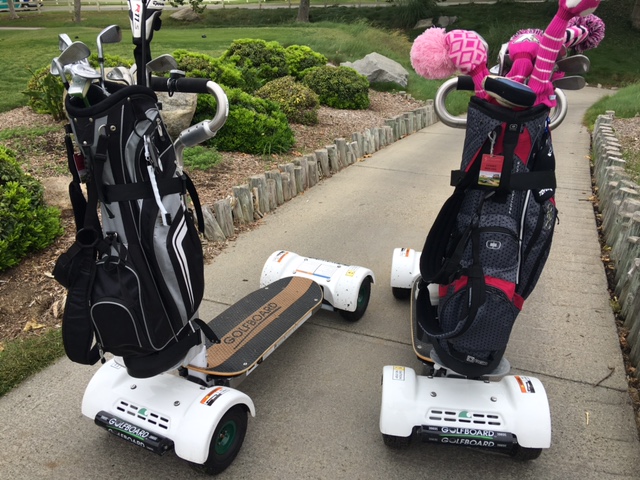 We loaded our bags onto the GolfBoards and with the settings on low (5 mph) we headed over to the empty 18th fairway for a quick test and to get comfortable.  Short of throwing yourself off or jumping off the board deck, you're not going to fall.  You can lean hard front and back and the board just glides with easy left and right.  Once heading over to the 1st tee we switched the settings to high (10 mph) and started to cruise.  Getting the hang of the feeling takes about two holes and then it just becomes second nature.
Without thinking we found ourselves searching out knolls in the fairway to carve, sprinkler heads to dip around, and downhills to glide.  Forget cart paths, the GolfBoards are allowed to go all the way up to the greens too.  All the rumblings of how to increase speed of play can be set aside (those dumb large holes included) because you definitely pick up the pace.  No more having to partner golf and go from one rider's ball to the other because you can cruise together down the fairway and then part ways to get to your own ball.  We definitely found ourselves hover close together while heading to the next ball so we could enjoy conversation but we really liked that you didn't have to sit and wait for your turn.  You can get to your ball and start your practice swings ahead of time.
Here's the funniest thing we learned during our outing on GolfBoards.  I bet you can't guess the average age user?  It's 51!  Although you'd think this is aimed at millenials, its definitely accessible and easy to ride for any age golfer.  We crossed paths with some elderly ladies while playing and they proudly told us that they love taking the GolfBoards out and always hurry to get a reservation so they don't miss their turn.  What's cool too is that, just like walking, you're upping your activity while on the course.  By the end of the round (and the day after) you'll feel in your thighs and abdomen the work you put in from leaning to create the left and right movement.
If you haven't taken a GolfBoard out, don't wait any longer.  …and if you're looking to get your buddy into golf who is a little on the fence, start with a GolfBoard outing.  This could bring in a golf revolution and bring new people of all ages into the game.
WHERE YOU CAN RIDE
As we mentioned above, the GolfBoard has reached every corner of the Southern California region and is continuously adding new locations.  You can check their interactive map HERE, but as of this moment the current locations are:
Shadowridge Golf Club – Vista, CA (private course)
Maderas Golf Club – Poway, CA (open to the public)
Tustin Ranch Golf Club – Tustin, CA (open to the public)
Coto De Caza Golf & Racquet Club – Coto De Caza, CA (private course)
Tahquitz Creek Golf Resort – Palm Springs, CA (open to the public)
Hawks Landing Golf Club at Blue Skies – Yucca Valley, CA (open to the public)
La Purisma Golf Course – Lompoc, CA (not quite SOCAL but close and open to the public)
Keep checking back to the map HERE because new locations are adding all the time!
WANT YOUR OWN?
Yes.  The answer is yes, you can in fact own your own GolfBoard AND they fit in your car.  You'll have to get the okay from the golf course but I'm sure it'll be no problem.  You'd be buying what they call a SportBoard and they actually can go as fast as 14 mph versus the standard CourseBoard of 10 mph.  Choose your fender colors, wheels, and customize your decals if you want.
For more information, click HERE and scroll to the bottom of the page.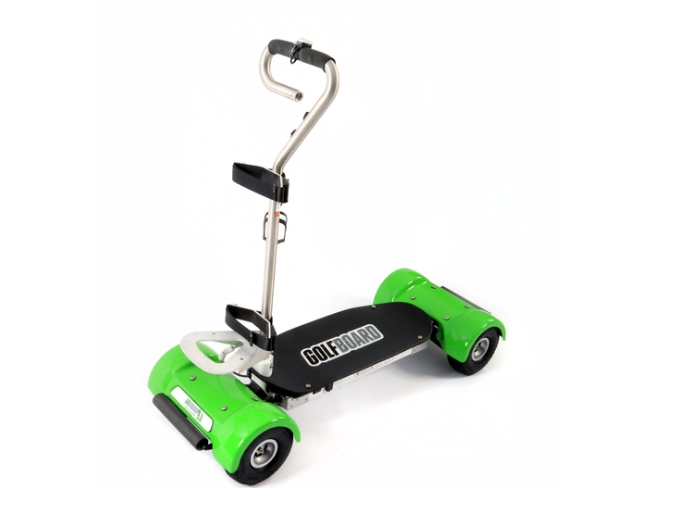 Have you ridden a GolfBoard yet?  Share your experience below!
Not a SOCAL Golfer yet?  Our half-year memberships are now available with promo code HALF2016 or try our new FREE membership option!